2018 $5 1 oz Silver Canadian Maple Leaf Lunar Dog Privy Coin .9999 Fine (BU)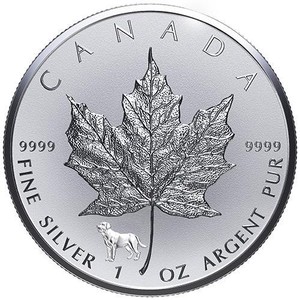 ---
Powered by FrooitionHomeGoldSilverPlatinumPre-1933 CoinsGraded ModernNew ItemsDeals All Items See our store for more great items >> Shop CategoriesOtherGoldAmerican Gold EaglesCanadian Gold MaplesGold BarsPerth Mint of AustraliaPre-1933 Gold CoinsAustrian Gold PhilharmonicsChinese Gold PandasSouth African KrugerrandsBritish Gold CoinsVintage European Gold CoinsSilverAmerican Silver EaglesCanadian Silver Maples & Other90% & 40% Silver CoinageSilver BarsSilver RoundsSilver DollarsAustrian Silver PhilharmonicsAustralian (Perth Mint) SilverBritish Silver Coins5 Oz America The BeautifulMexican Silver LibertadsChinese Silver PandasMonster Boxes of SilverPlatinumCanadian Platinum MaplesPlatinum BarsPre-1933 CoinsMorgan Silver DollarsPeace Silver Dollars$2.50 Liberty Quarter Eagles$2.50 Indian Quarter Eagles$5 Liberty Half Eagles$5 Indian Half Eagles$10 Liberty Eagles$10 Indian Eagles$20 Liberty Double Eagles$20 Saint Gaudens Double EagleCertified ModernCert. U.S. Silver EaglesCert. U.S. Proof Silver EaglesRare CoinsDealsNew Items Helpful Links Add to Favorite Sellers Sign up to Newsletter View Feedback Contact Seller Visit seller's Shop About Seller Page 2018 $5 1 oz Silver Canadian Maple Leaf Lunar Dog Privy Coin .9999 Fine (BU) Item Description About the  2018 $5 1 oz Silver Canadian Maple Leaf Lunar Dog Privy Coin .9999 Fine (BU)

The .9999 fine Canadian Silver Maple Leaf is one of the most recognizable silver bullion coins in the world, yet this is a very unique version of the popular silver bullion coin from the Royal Canadian Mint. 

Combining the great worldwide reputation of the Canadian Silver Maple Leaf coin and the growing popularity of lunar-themed coins, the Royal Canadian Mint has created this limited edition collectible 2018 1 oz $5 Year of the Dog Privy Silver Maple Leaf coin. This limited edition coin is available right now in reverse proof strike in brilliant uncirculated (BU) condition.

Coin Highlights: Contains one (1) troy ounce of .9999 pure silver bullion. Limited mintage of only 100,000, a very low mintage for a bullion release. Bears a face value of $5 (CAD). Guaranteed by the Canadian government. Features the sugar maple leaf emblem. Includes a Year of the Dog Privy Mark. Struck with a brilliant uncirculated (BU) reverse proof finish. Individual coins are shipped in protective vinyl flips. Orders of 25 coins are shipped in original sealed mint tubes. Orders of 500 are shipped in original mint sealed boxes.

 

Lunar-themed coins are immensely popular amongst bullion collectors. The addition of a lunar privy mark to the popular Canadian Silver Maple Leaf coin is just one of the many ways that the Royal Canadian Mint now celebrates the Chinese Lunar Calendar.

In the Chinese Lunar Calendar, 2018 is the Year of the Dog, and as such the Royal Canadian Mint added the image of a dog to the reverse face of this 2018 Canadian Silver Maple Leaf coin. This coin's small privy mark features a left-profile image of a dog seated just to the lower left of the classic Canadian sugar maple leaf design.

The front of this coin features the familiar right-profile portrait of Queen Elizabeth II. Her Majesty's effigy is accompanied by engravings of her name, the year of stike, and the $5 CAD legal tender face value of this coin.

Each 2018 Year of the Dog Privy Canadian Silver Maple Leaf coin has glimmering reverse proof finish. This type of striking gives a deeply-mirrored finish to the maple leaf, Queen, and the coin's engravings. Yet the coin's background field is frosted in a matte finish allowing the coin's design and lettering to pop and shimmer.

All orders from Monument Metals are discretely shipped, fully insured, and guaranteed as described.

About UsAbout UsPaymentShippingReturnsContact UsAbout UsMonument Metals is the trusted source for rare coins and precious metals online. We offer a wide selection of high-quality collectible and bullion products, all at fair and transparent prices. By providing a superior level of value and service, we make owning coins and precious metals a rewarding experience for collectors and investors alike. Who We Are Monument Metals is a family-owned business headquartered in Frederick, MD. The firm's owners are veterans of the numismatic and bullion business, with nearly three decades of combined industry experience. After trading exclusively in the wholesale end of the marketplace, the principals of Monument Metals began selling to the general public in 2014. We pride ourselves in buying effectively, operating efficiently and maintaining low overhead. The result is our ability to offer excellent pricing--almost always better than the largest online retailers or local coin shops. Our industry experience and connections allow us to deliver high-quality coin and bullion products at ultra-competitive prices. Why Monument Metals? We offer a wide selection of coins and precious metals. Our collectible/numismatic offerings include both modern and pre-1933 coins from the US and around the world. Our bullion inventory consists of the world?s most trusted, accepted and universally recognized products. Every item, whether for investors or collectors, must meet our strict standards of quality. Competitive, transparent and simple pricing. Thanks to our low overhead and deep industry ties, we can offer some of the best prices in the marketplace. Our efficiency and buying power translates to better value for the customer. Not only are our prices fair, but you will never be surprised with unexpected charges. Shipping to the US is free for orders of $99 or more and there are no hidden charges. Unparalleled service. Although we are primarily an online retailer, we still believe that working well with people is the most successful attribute of any business. We handle every transaction, from start to finish, in a prompt, efficient and professional manner. This means clear and timely communication, prompt and secure shipping and helpful support from our staff. We offer the red carpet treatment of a traditional retail business with the pricing of a wholesale operation. We are committed to your success. Purchasing rare coins and precious metals is an important step in any investor or collector's journey. We offer some of the best resources available to keep you up to date on the precious metals and rare coin markets. Our goal is to provide you as much information as possible so that you can make an informed decision on your own. How we're different. We only sell what meets our quality standards. In short, we believe in the products we sell. Our collectible coins are personally selected by knowledgeable numismatists. On the bullion side, we work directly with official distributors to provide products of unquestioned authenticity. We only sell quality items that other dealers would be happy to buy back again. No minimums. Whether your order is for $10, $10,000 or $1,000,000, your business is important to Monument Metals. We see transactions as the start of a relationship, not just a one-time sale. We understand that everyone has to start somewhere, and for that reason, we do not enforce any minimum order sizes on our site. No high pressure or commissioned salespeople. Our friendly, efficient staff is here to provide support, answer questions and respond to your needs. They do not exist to push opinions and products. Your success is our success. Deep knowledge and expertise. Monument Metals is owned by industry veterans with decades of experience in the rare coin and bullion markets. Our deep knowledge and presence in the marketplace are invaluable. It allows us to source the best available items and provide them to our customers at highly competitive prices.PaymentPaymentMonument Metals accepts all PayPal and Credit Card payments on ! ShippingShippingDomestic shipping is always free for Monument Metals on ! Sorry, no international shipping at this time. ReturnsReturnsMonument Metals offers a full 30 day return policy on all items offered on . We want our clients to be satisfied! Contact UsContact UsSend us a message on !More Items!View more great items About UsShippingPaymentsReturnsContact UsPowered by FrooitionFrooition Frooition | No-js Template | design, store design, shop design, template design, listing design (ver:froo_no_js)This listing is currently undergoing maintenance, we apologise for any inconvenience caused.