Automatic Digital Wrist Blood Pressure Monitor BP Cuff Machine Home Test Device 6958104819636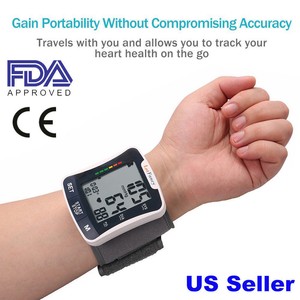 ---
Store category
New Arrivals!!!Laptop KeyboardLaptop CPU FanLaptop LED/LCD/Ribbon CableLaptop LCD InverterLaptop LED/LCD HingeLaptop Floppy Drive & JackBluetoothHealth & BeautyGo Kart Minibike ClutchGoPro AccessoriesWedding Accessorieshot item 5%Car led lightSunglassesCarburetor for LawnmowersOff Road Work LightTelephone HeadsetsGenerator Voltage RegulatorOximetersautopartsScooter AccessoriesOther Sign Up Now !
You may also like
Auto Digital Wrist Blood Pressure Monitor BP Machine Measurement Device
Product Description
Auto Digital Wrist Blood Pressure Monitor BP Machine Measurement Device Automatic Pressurization,Jumbo 2.3 inch LCD DisplayIrregular Heart Beat Detection120 Memories in 2 Groups,Last 3 Results AverageWHO Blood Pressure Classification Indicator,Portable carrying caseLow Battery Indicator,Auto Shut Off to save your battery life          Note: Batteries not included.2 Batteries Size AAA are required. Fit Wrist circumference 5.3-8.5 inches Important -Apply cuff as illustrated in the manual and tighten firmly before starting the reading -Take blood pressure at the same time every day. In the morning shortly after getting up is best -Don't use the monitor in a very cold environment,don't use monitor when you want to discharge urine -Avoid eating, alcohol, smoking, exercising, medications, and bathing for 30 minutes before measuring blood pressure -Rest in a chair for 5 to 10 minutes before taking a reading,don't talking or moving when measuring -Sit in a comfortable position and rest your arm on a table at approximately heart level for the reading -Note that your blood pressure can vary significantly in as little as a few minutes -For maximum accuracy you can use the option to average your last 3 readings Specifications -Irregular Heart Beat Detection -WHO Classification Indicator -Last 3 Results Average -mmHg Display: Yes -Low Battery Indicator -Jumbo Display -Memory: 2x60 memories -Accuracy: ±3 mmHg (±0.4 KPa) -Test Range: 20 mmHg-300 mmHg (2.7 KPa-40 KPa) -Pulse Accuracy: ±5% -Pulse Test Range: 30-180 Beats/Minute -Display: Liquid Crystal Display (LCD),45 x30mm -Battery Life: Approximately Two Months @ 3 Times Usage Per Day -Dimensions: L3.11xW2.51xH1.14 inch , 7.9x6.4x2.9 CM (L x W x H) -Weight: Approximately 120g excluding battery Package includes 1x Blood Pressure Monitor 1x Carrying case 1x Instruction manual Suggestions for Measuring Blood PressureAvoid eating, drinking, smoking, or exercising for at least 30 minutes before  taking a measurement. You should also try to measure your blood pressure at the same time each day.Measurement should be taken in a quiet place and you should be in a relaxed, seated position.1. Align the wrist cuff with the level of your heart and gently support your left arm with your right hand. Do not place your right hand on the cuff itself.2. Press the START/STOP button.Remain quiet, sit still and do not talk during the measurement.Notes:* Always wait at least 2-3 minutes before taking another blood pressure measurement.You may require more rest time between readings depending on your individual physiological characteristics.* Always wrap the wrist cuff around your wrist before starting to take a measurement.* Do not measure your blood pressure while you are in a vehicle.* Always measure your blood pressure on the same wrist.How to Apply the Wrist Cuff1. Roll up your sleeve so that the monitor is in direct contact with skin. Do not apply over clothing.Make sure that your sleeve is not too tight and does not constrict the flow of blood in your arm.2. Place the wrist cuff over your left wrist with your left thumb facing upward.3. Hold the bottom part of the wrist cuff and wrap it around the wrist while pulling so that it fits comfortably.Make sure that the wrist cuff does not cover the protruding part of the wrist bone (ulna) on the outside of the wrist.Unless the wrist cuff is wrapped securely around the wrist, it may not be possible to take correct measurements.4. The remaining part of the wrist cuff can be conveniently folded back out of the wayTaking measurements on the right wrist Measurements can also be made on the right wrist.Fit the monitor on the right wrist as shown.

Blood pressure Q&A

Q: What is the difference between measuring blood pressure at home or at a professional healthcare clinic?

A: Blood pressure readings taken at home are now seen to give a more accurate account as they better reflect 

your daily life. Readings can be elevated when taken in a clinical or medical environment. This is known as White 

Coat Hypertension and may be caused by feeling anxious or nervous.

Q: What causes different readings?

A: Blood pressure varies throughout the course of a day. Many factors including diet, stress, cuff placement, etc.

may affect an individual's blood pressure.

Q: Should I apply the cuff to the left or right wrist? What is the difference?

A: Either wrist can be used when testing, however, when comparing results, the same wrist should be used. 

Testing on your left wrist may provide more accurate results as it is located closer to your heart.

Q: What is the best time of day for testing?

A: Morning time or any time you feel relaxed and stress free.

 

Note: Abnormal test results may be caused by:

1.       Improper cuff placement

Make sure cuff is snug-not too tight or too loose.

2.       Improper body position

Make sure to keep your body in an upright position.

3.       Feeling anxious or nervous

Take 2-3 deep breaths, wait a few minutes and resume testing.

TroubleshootingProblem: Blood pressure results are not within typical range,Why?Cause 1: Cuff is too tight or not properly positioned on the wristSolution: Firmly reposition cuff on wrist making sure no wiggle is present.Cause 2: Inaccurate test results due to body movement or monitor movementSolution:Sit in a relaxed position placing wrist level with heart.Avoid speaking or moving body parts while moving body parts while testing.Problem:"Err" displayedCause 1:Cuff fails to inflate properlySolution:Make sure hose is properly fastened to cuff and monitor unitCause 2:Improper operationSolution:Read user manual carefully and re-test properly.Cause 3: Pressurization is over 300mmHgSolution:Read user manual carefully and re-test properly.Payment:We accepted Paypal ONLY,All auction items must be paid in full.Shipping address must be the same as Paypal confirm address, if not, please contact and confirm with us.

Payment Delivery details Terms of sales About us Contact us Payment We accepted Paypal ONLY,All auction items must be paid in full.Shipping address must be the same as Paypal confirm address, if not, please contact and confirm with us. Delivery details All orders will be shipped within 2 business days after the payment is cleared.We use USPS First Class Service: all shipment will be with tracking number. Terms of sales We have satisfactory guarantee, if you are not satisfied with your purchase, or If by any chance you do receive a defectiveitem please contact us and we will help to resolve your problem.Please contact us within 60 days of receipt to return it for refund or exchange.Non-defective item returns will be accepted within 14-days.There will be 15% restocking fees.Buyer is responsible for return shipping costs. About us Hiparts is a distributor of medical device , located at South San Francisco, CA 94080, Please Contact us at 9am - 5pmPST M-F for any questions if not email reply to you after 1 business day.If you have questions about legal obligations regarding sales of medical devices, you should consult with theFDA's Center for Devices and Radiological Health:http://www.fda.gov/cdrh/devadvice/http://www.fda.gov/cdrh/industry/support/index.htmlThanks for your cooperation!"The sale of this item may be subject to regulation by the U.S. Food and Drug Administration and state and local regulatoryagencies. If so, do not bid on this item unless you are an authorized purchaser. If the item is subject to FDA regulation,I will verify your status as an authorized purchaser of this item before shipping of the item." Contact us If you do have any questions or concerns, please feel free to contact contact via 's contact seller button.We will answer your email within 24 hours except Holidays, Saturday and Sunday.