NEW TENS 7000 2nd Edition - Most Powerful unit (OTC) Muscle Stimulator Machine 13964594607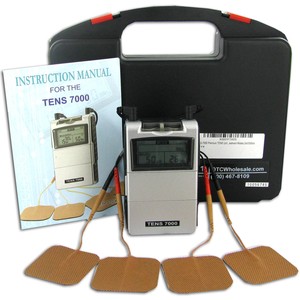 ---
                                         TENS 7000 Digital Tens Unit 2nd Edition most powerful unit with timer...
                                                                                New ! Free Shipping ! Lowest Price   Sale!  Sale!  Sale! 
 The TENS 7000 device includes lead wires, four self-adhesive reusable electrodes, 9V battery, hard plastic carrying case and instruction manual. The TENS unit 7000 is one of the most popular TENS Unit systems to this date. Don't worry. The Tens 7000 2nd Edition unit has been proven in providing relief for that terrible chronic nerve pain in your neck or back. There are 5 different modes in which you can set the electrical pulses in order for you to find the most comfortable setting. The digital display makes it easy to read displaying modulation information such as the rate in hertz and a timer. The device is also small in size making it easy to handle with a sleek silver color for the front and rubber railings on the side. There is also a built in belt clip on the back of the unit. 
Ships Fast.. Most orders are received in 2 to 3 days ... Free SHIPPING . only inside the United States. The Professional TENS 7000 TENS Unit comes with a Satisfaction Guarantee and a Three Year Warranty.