Stocking Wig Cap 2 Pcs Black Brown Natural Beige Nude Liner Weave Nylon Weaving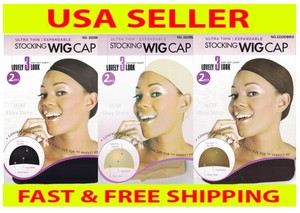 ---
Save an additional 10% at checkout when you order 3 or moreMagic - Wig Caps(Choice of Colors)

These Wig Caps are form fitting to help your hair stay put and keep your wig anchored to give a more realistic look.

The Wig Cap also provides protection to your hair from environmental damage as well as preventing drying out under the wig. 

Will retain moisture and essential oils in your hair and keep hair healthy under the wig.

Color: Black - Blond (Beige/Nude) - BrownPrevents breakageNaturally control wigs without pinsUltra Thin Stocking FabricFull size for the perfect fitShipping From USA!!!Your Choice:Free Economy ShippingorFirst Class Mail Package w/Tracking (Additional Cost Applies)Thank You!